Model
Model:
RX 560 AERO ITX 4G OC
Interface
Interface:
PCI Express x16 (Uses x8)
Chipset
Chipset Manufacturer:
AMD
GPU Series:
AMD Radeon RX 500 Series
Stream Processors:
1024 Stream Processors
Memory
Effective Memory Clock:
7000 MHz
Memory Interface:
128-Bit
3D API
Ports
DisplayPort:
1 x DisplayPort
Details
CrossFireX Support:
Crossfire, 2-Way (Bridgeless)
System Requirements:
Recommended PSU: 400W
Dual-Link DVI Supported:
Yes
Features
Features:
All Solid Capacitors|+|- 10 years long lifetime under full load.|+|- Lower temperature and higher efficiency.|+|- Aluminum core for higher stability.|+||+|Afterburner Overclocking Utility|+|- Wireless control through Android/iOS devices.|+|- Predator: In-game video recording.|+||+|AMD Eyefinity|+|- Makes games more immersive by enabling you to play across multiple screens for an eye-popping gaming experience.|+||+|AMD FreeSync|+|- Synchronizes the display refresh to your Radeon RX Series GPU for the fast, smooth gaming.
Form Factor & Dimensions
Card Dimensions (L x H):
6.10" x 4.45"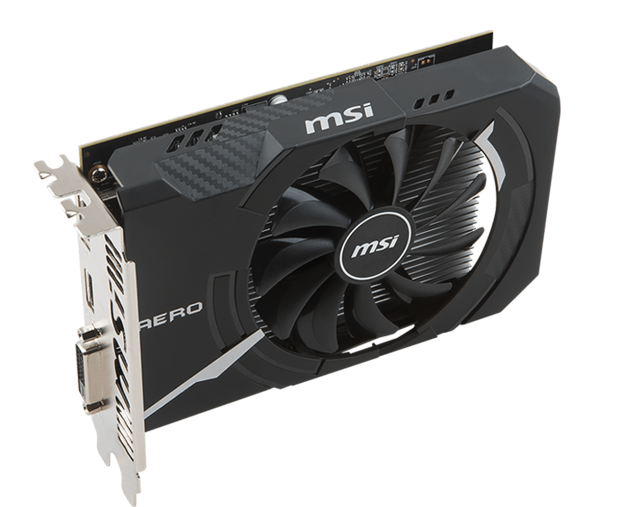 MSI Radeon RX 560 AERO ITX 4G OC
The Best for Your Compact Gaming PC Build
Packing the performance of a full-size video card into an incredibly small package, the MSI Radeon RX 480 ARMOR 4G OC Video Card is an ideal choice for hardcore gamers and VR enthusiasts. It is powered by AMD Radeon RX 560 GPU, equipped with 4 GB 128-bit GDDR5 memory and loaded with innovative new gaming technologies, delivering extreme gaming horsepower and opening the door to virtual reality and beyond. Engineered with quality and reliability in mind, the video card is built with military class 4 components and comes with one highly efficient fan to deliver superior heat dissipation.
DEMAND MORE, DEMAND RADEON
Guiding the Future of Gaming
The 4th generation GCN architecture, the revolutionary Polaris architecture, is engineered for gamers who play anything from the latest MOBAs to the most popular AAA titles. Asynchronous Shaders and an enhanced Geometry Engine power new levels of smooth gameplay performance. You can experience the next level of immersion with the world of VR gaming and entertainment.
AMD FreeSync Technology
AMD FreeSync technology puts an end to choppy gameplay and broken frames with fluid, artifact-free performance at virtually any framerate.
HDR Compatibility
Enhanced contrast and colors deliver a strikingly sharp, colorful, and vivid visual experience.
AMD Eyefinity
AMD Eyefinity makes games more immersive by enabling you to play across multiple screens for an eye-popping gaming experience.
SMALL PACKAGE, BIG PUNCH
The small MSI AERO ITX graphics cards are perfect for small form factor systems and HTPCs as they only take up a fraction of the space of a full size graphics card. This means they will fit into virtually any system and ensure a smooth gaming experience.
PERFECT IN ANY CASE
The saying "Good things come in small packages" is certainly true for AERO ITX cards. Thanks to its small form factor it will fit into virtually any case. Its compact size also means that its weight is dramatically less than that of a full size graphics card.

The smoothest, fastest and most exciting gaming experience ever by eliminating screen tearing, display shutter and input lag.

Ultra-high resolution (UHD) delivers 4x the resolution of 1080p content, enabling much sharper and crisper images with delicate details during gaming.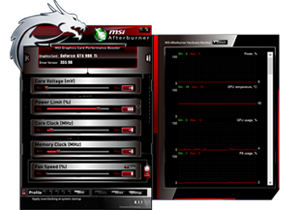 AFTERBURNER
MSI Afterburner is the world's most recognized and widely used graphics card overclocking utility which gives you full control of your graphics cards. It also provides an incredibly detailed overview of your hardware and comes with some additional features such as customizing fan profiles, benchmarking and video recording.