Model
Model:
GV-R938XG1 GAMING-4GD
Interface
Interface:
PCI Express 3.0
Chipset
Chipset Manufacturer:
AMD
GPU Series:
AMD Radeon R9 300 Series
Core Clock:
980 MHz (standard: 970 MHz)
Memory
Effective Memory Clock:
5700 MHz
Memory Interface:
256-Bit
3D API
Ports
DisplayPort:
1 x DisplayPort
DVI:
1 x Dual-link DVI-I|+|1 x Dual-link DVI-D
Details
Max Resolution:
Digital: 4096 x 2160|+|Analog: 2048 x 1536
System Requirements:
Power Requirement: 500W
Features
Features:
Powered by AMD Radeon R9 380X GPU|+||+|Integrated with industry's best 4GB GDDR5 memory 256-bit memory interface|+||+|OC Edition - Core Clock: 980 MHz (Standard: 970 MHz)|+||+|Features Dual-link DVI-I / Dual-link DVI-D / HDMI / DisplayPort|+||+|System power supply requirement: 500W (with one 8-pin external power connector)
Form Factor & Dimensions
Card Dimensions (L x H):
8.70" x 4.49"
The AMD Radeon R9 380X video card is built for you to game at maximum details in 1080p, 1440p, and all the way to 4K resolution. Based on the latest generation of AMD GCN architecture, this card features 2048 Stream Processors and 4GB 256-bit GDDR5 memory, delivering new levels of performance and capability craved by serious gamers. A rich array of AMD GPU technologies is included, offering more than one way to elevate your gaming experience, like AMD Freesync Technology for smooth, tear-free gaming, Frame Rate Target Control (FRTC) for less power consumption by limiting the target frame rate, and Virtual Super Resolution (VSR) that delivers brilliant 4K experience, even on a 1080p display.
G1 GAMING Graphics Cards are forged with only the top-notch GPU via the very own GPU Gauntlet and Ultra Durable VGA components to ensure highest performance without compromising system reliability. Combined with the WINDFORCE cooling system and ultra HD support, gamers can immerse themselves in the most enriched gaming environment than ever before.
WINDFORCE 2X Cooling System
GIGABYTE introduces WINDFORCE, the latest cooling technology that differentiates the brand's graphics cards from the rest. GIGABYTE understands that a fan is crucial to the graphics card, so only the fan with the most efficiency is selected for WINDFORCE.
Unique Blade Fan Design
The airflow is spilt through the triangle design at the fan edge, and is guided smoothly through the fan by special 3D stripe curve design. At the same time, it effectively enhanced the cooling capacity while reducing air turbulence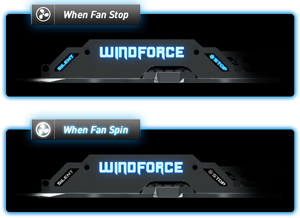 0dB Semi-Passive Fan with LED Indicators
The fans will remain off when the GPU is under a set loading or temperature for low power gaming. Besides, LED fan indicators on the top of the graphics card provide an instant display of whether the fans are spinning or not.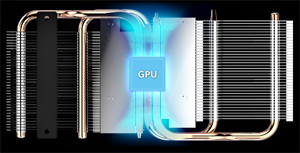 Heat Pipe Direct Touch
Equipped with pure copper heat pipe direct touch (HDT) technology, delivering superior cooling capacity and heat transfer efficiency at an extremely low noise level.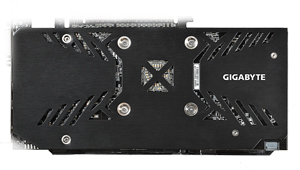 Stylish Metal Back Plate
Glorious black metal back plate inspires passion for gaming.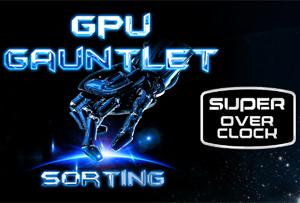 SOC - GPU Gauntlet Sorting
With GPU Gauntlet Sorting, the Gigabyte SOC graphics card guarantees the higher overclocking capability in terms of excellent power switching.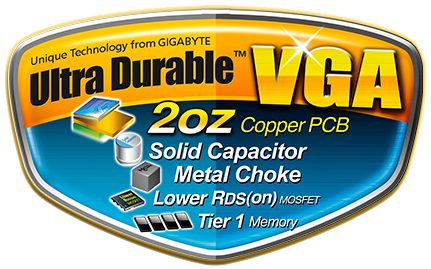 Lower GPU Temperature Ultra Durable VGA board provides dramatic cooling effect on lowering both GPU and memory temperature by doubling the copper inner layer of PCB.
Better Overclocking Capability Ultra Durable VGA board reduces voltage ripples in normal and transient state, thus effectively lowers noises and ensures higher overclocking capability.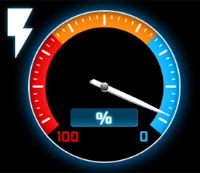 Decrease Power Switching Loss Ultra Durable VGA board allows more bandwidth for electron passage and reduces circuit impedance. The less circuit impedance, the more stable flow of current and can effectively improve power efficiency.
GPU Features
DirectX 12, Vulkan & OpenGL 4.5 APIs Battle-ready with optimized performance for next-gen APIs (DirectX 12, Vulkan, OpenGL 4.5, Mantle) and is designed from the ground up to give you everything you need to enjoy the latest games today and tomorrow.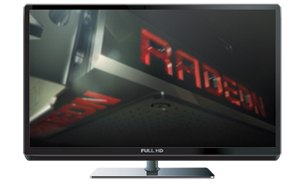 Virtual Super Resolution (VSR) Get quality that rivals 4K, even on a 1080p display while playing your favorite AAA or online games thanks to AMD's VSR.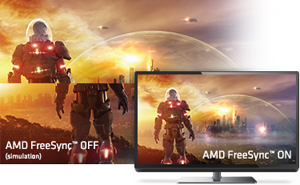 AMD FreeSync Technology AMD FreeSync technology puts an end to choppy gameplay and broken frames with fluid, artifact-free performance at virtually any framerate.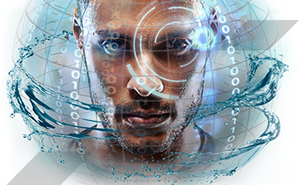 AMD LiquidVR Technology AMD's pioneering Virtual Reality technology is poised to bring better content, comfort, and compatibility to VR applications – from simulations, gaming, entertainment, education, social media, travel and medicine to real estate, ecommerce and more – for a whole new level of presence.